Installing Oculus Quest/Go apps
Oculus Go is a standalone VR headset and requires specific process to install our app. To install Biganto Tour Player you will need a customer key you can generate on this page and Oculus Go VR headset paired with a mobile device.
Important: Oculus Go is no longer supported by Oculus. This version of application is final and will not be modified any further. Go application will be removed at certain point in time in the future.
Pairing mobile device with Oculus Go
If you have experience installing apps with Go and already paired headset to your mobile device, you can proceed directly to the app installation. Otherwise, follow these four steps first:
Install "Oculus" application on your mobile device and create an account to access Oculus store.
Open the application and select "Settings" in the bottom of the screen
Select "Pair New Headset"

Select "Oculus Go" from the list and follow the instructions, provided by the app
App installation
When your Oculus is ready, you can proceed with Biganto Tour Player installation:
To install the application, you will require a customer key. We recommend to generate the key directly in mobile device browser, so you will be able to paste it in the mobile Oculus app. Press "Generate key" below:

Open Oculus app on your mobile device and enter Settings.
Scroll down and select "Redeem Code"

Paste your redeem code into the field and press "Submit".

If successful, you will see the following notification about redeemed content:

Press on the Biganto Tour Player app and select "Install on Oculus Go" in the bottom of the screen. The download will start shortly.
Accessing the app from VR headset
To access the app from Oculus Go VR headset, do the following:
Turn on VR headset and press "Oculus" button on the controller.
Select "Navigate" in the menu using Go controller, select "Library" to show the list of installed apps.

Select "Biganto Tour Player" from the list. Log in with Biganto account to access your tours.
Oculus Quest is a standalone VR headset and requires specific process to install Biganto app. To install Biganto Tour Player on your Oculus Quest all you need is to open the app page in the MetaStore. Open the page on your Oculus Quest or mobile device and press "Get" to install the app.
Alternative Installation via SideQuest
To install Biganto Tour Player you will require:
To install side-loading application SideQuest on your PC
Cable to transfer data from PC to Oculus Quest (be aware that cable that comes with your Quest device is not suited for data transfer)
Smartphone with Oculus App installed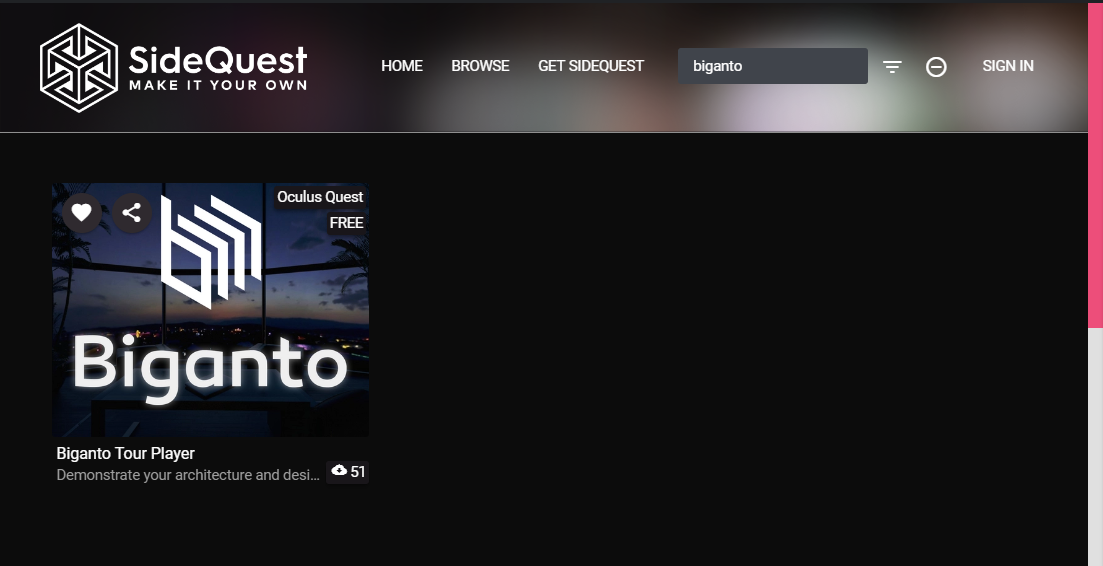 SideQuest is a side-loading application and requires a PC in order to side-load from. Installing SideQuest to your actual Quest device to download apps and games directly within a headset without a PC is not possible due to code infringement concerns and security issues.
After installing SideQuest to a PC and following the instructions you will be able to download and install Bigato Tour Player from SideQuests marketplace.
Important: SideQuest is not an official Oculus product, it requires some PC knowledge to install it. Proceed with caution and only if you are sure about your actions.
To install SideQuest, please follow one of the instructions below: